How to Watch Rick and Morty Season 5 Without Cable Live in 2021 – Your Option in Canada
Rick and Morty Season 5 will premiere Sunday, June 20, 2021 on Adult Swim at 11 p.m. ET/PT and you can watch it live on RiverTV!
Start your Free Trial: https://rivertv.ca/
Cable Free Streaming TV Service
RiverTV is a breakthrough, over the top live TV and on demand streaming service with over 30 bundled channels, including popular entertainment and lifestyle networks in Canada. Available on your favourite streaming devices, RiverTV provides affordable, "cable-free" live TV, without messy wires, costly set top boxes, lengthy installation and term contracts.
Stream live TV and on demand, as accessible as Netflix!
Try RiverTV FREE for 7 days and start watching your favourite TV shows like Rick and Morty instantly! https://rivertv.ca/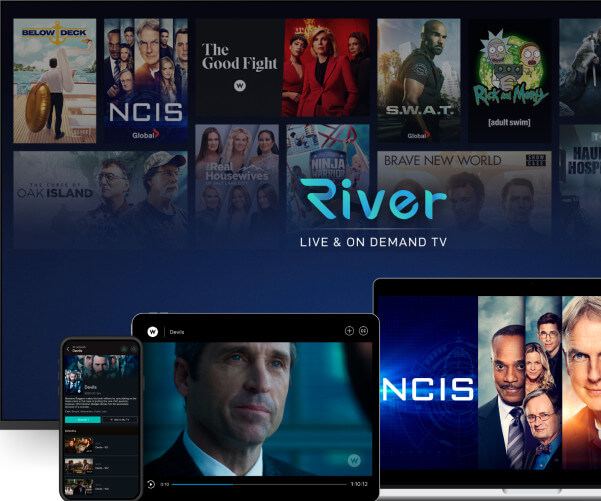 RiverTV includes many great TV viewing features:
TV Guide – Easy to surf, and discover new shows
My TV – Save all your favourites in one place
Look Back TV – Missed a show? Watch previously aired programming up to 7 days back
Pause & Resume Live TV -Pick up where you left off
Restart – Restart to beginning of a live show if you tune in late
Sleek, responsive user interface
Watch on up to three different devices at once
RiverTV is available across Canada on the following devices:
TV: Available on all major app platforms – Amazon Fire, Roku, Apple (iOS/tvOS) and AndroidTV
Mobile: iOS/iPad, Android Mobile
Computer: Web App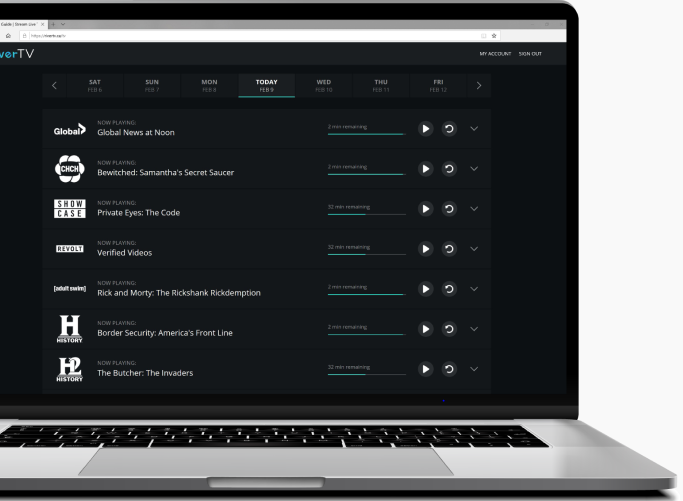 Where can I watch Rick and Morty?
You can watch Season 5 of Rick and Morty on Adult Swim with RiverTV! You can also catch up on all 10 episodes of Season 4 available on RiverTV demand.
RiverTV offers a great lineup of over 30 network and specialty channels, as well as US streaming channels available in a TV package only on RiverTV.
Your RiverTV package includes; Global, Showcase, Slice, History, H2, W Network, Crime & Investigation, Adult Swim, MovieTime, Lifetime, YTV, Teletoon, Treehouse, Smithsonian Channel, CHCH, Euronews, Outdoor Sports Channel, Silver Screen, Family Channel, Family Jr, and more, as well as popular US streaming channels; Cheddar, Drink TV, Journy, Law & Crime, Newsy, and REVOLT, with more channels to come.
You may also add individual channels and theme packs for your viewing entertainment, such as nick+, Hollywood Suite, Super Channel and more in our Add Ons section.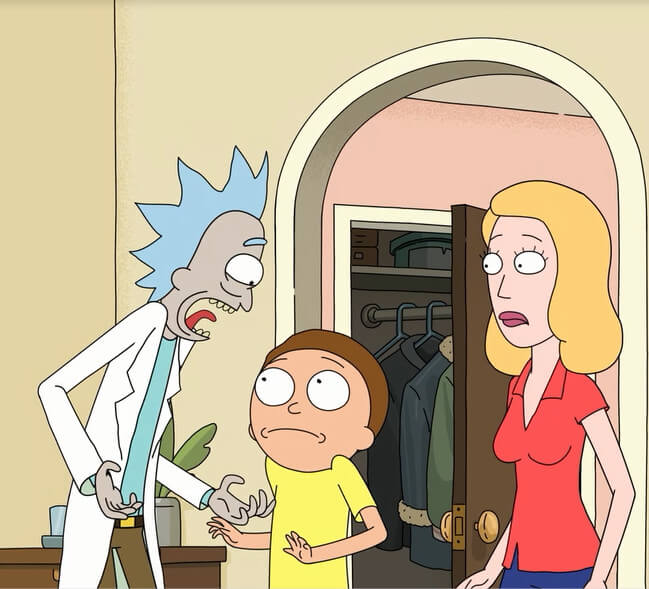 Rick and Morty Overview
Rick and Morty is an American adult animated science fiction sitcom created by Justin Roiland and Dan Harmon for Cartoon Network's nighttime Adult Swim programming block. The series follows the misadventures of cynical mad scientist Rick Sanchez and his good-hearted but fretful grandson Morty Smith, who split their time between domestic life and interdimensional adventures.
Roiland voices the eponymous characters, with Chris Parnell, Spencer Grammer and Sarah Chalke voicing the rest of Rick and Morty's family. The series originated from an animated short parody film of Back to the Future, created by Roiland for Channel 101, a short film festival co-founded by Harmon. The series has been acclaimed by critics for its originality, creativity and humor.
What is Rick and Morty About?
Mad scientist Rick Sanchez is constantly snatching his grandson Morty out of his day to day life to play assistant on adventures that range from cross-galaxy and universe travel via Rick's portal gun to an experimental amusement park built inside a homeless man. Rather than being enchanting and wondrous, each episode leaves Morty just a little more scarred – and the struggle of whether to refuse to accompany Rick at the risk of losing one of his only meaningful relationships is a constant strain on Morty.
Main Characters of Rick and Morty
Rick Sanchez
A brilliant scientist with a passing-at-best relationship to empathy, Rick has been all over the multiverse and buried himself more than once.
Morty Smith
Rick's grandson, age 14. Morty is a nervous, eager to please kid who usually gets steamrolled into helping Rick out, and who's spent barely a dozen hours actually attending school since his grandpa came into his life.
Summer Smith
Morty's older sister, age 17. Originally written as "the disinterested teenager on her phone," Summer came into her own near the end of the first season. Far more willing to call Rick out for his callous behavior than her brother, she's also proven an increasingly competent hand at adapting to and talking her way out of dangerous situations.
What are the episode titles for Rick and Morty Season 5?
Like previous seasons of Rick and Morty, Season 5 will feature 10 episodes. Check out the episode titles that were revealed!
Episode 1: "Mort Dinner Rick Andre"
Episode 2: "Mortyplicity"
Episode 3: "Rickdependence Spray"
Episode 4: "A Rickinconvenient Mort"
Episode 5: "Amortycan Grickfitti"
Episode 6: "Rick & Morty's Thanksploitation Spectacular"
Episode 7: "Gotron Jerrysis Rickvangelion"
Episode 8: "Rickternal Friendshine of the Spotless Mort"
Episode 9: "Forgetting Sarick Mortshall"
Episode 10: "Rickmurai Jack"