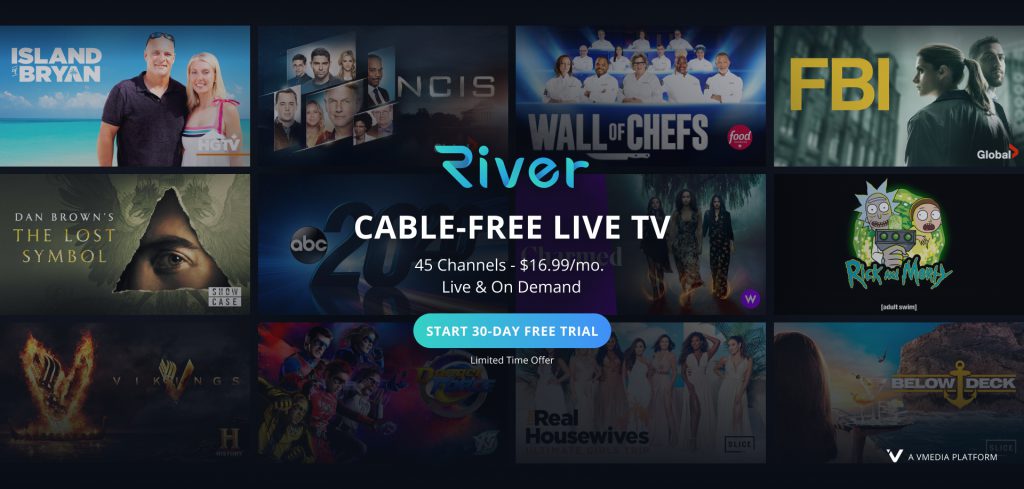 Contact: Susan Hershman / RiverTV
(416) 523 6520, [email protected]
RIVERTV, CANADA'S PREMIER LIVE & ON DEMAND TV STREAMING SERVICE, ANNOUNCES 30 DAY FREE TRIAL OFFER
Special Limited Time Offer – New Subscribers Can Enjoy A 30 Day Free Trial Of RiverTV's Core Package Of 45 Popular Channels As Well As Any "Add-On" Channels!
TORONTO, ON – March 17, 2022 – RiverTV (www.rivertv.ca), Canada's premier live TV and on demand streaming service, is delighted to announce a special 30 Day Free Trial offer for all new subscribers. RiverTV is an innovative streaming service with over 40 top network and specialty channels featuring great value TV entertainment. At $16.99/month, RiverTV is a much more affordable live TV and on demand solution than all the major TV providers.
The RiverTV lineup features 45 popular channels, including local Global TV and CBC stations, CHCH-TV, and top-rated specialty channels HGTV, FOOD, W Network, Showcase, CBC News Network, Teletoon, YTV, Treehouse, HISTORY®, Adult Swim, Family, Slice, Smithsonian Channel Canada, Crime & Investigation and many more. RiverTV is an unbeatable mix of top rated shows, movies, news, lifestyle and reality programming, family shows and much more.
RiverTV is cable-free, affordable live TV – no cable wires, no costly set top boxes, no installation appointments and no contracts. Consumers can start watching in minutes on their laptops and phones or download the RiverTV app from all major App stores, including ROKU, Apple (TV and Mobile), Google Play, Amazon Fire TV to watch on their TVs.
"We are very pleased to provide this 30 Day Free Trial offer of RiverTV," says Alexei Tchernobrivets, CEO of VMedia Inc., the parent company of RiverTV. "The feedback from users has been overwhelmingly positive, and our mission now is to let all Canadians know about the great value our hassle-free live TV alternative offers."
New RiverTV subscribers can also take advantage of a 30 Day Free Trial of all of RiverTV's "Add-on" channels when signing up on www.rivertv.ca. This includes theme packs such as Hollywood Suite, the great commercial-free movie package, the premium Super Channel package, kids' favourite, Nick+, as well as many 'a la carte' multicultural channels. The 30 day free trial of Add-ons is also available to those who sign up to RiverTV on the App platforms by going to their RiverTV My Account after sign up and adding any Add-on channels.
RiverTV's advanced streaming platform provides both live and on demand TV, with unique features such as Look Back, which lets you scroll back for up to 3 days to catch a show you missed, Restart, where you can restart to the beginning of a show if you come in late, Pause & Resume for live TV and MyTV for customized viewing.
"RiverTV is the live TV and on demand solution for cord-cutters and cord-nevers," said George Burger, COO of RiverTV. "We offer the best selection of channels for millennials looking for great lifestyle and family programming, at an unbeatable price. At $16.99/month RiverTV offers terrific entertainment value."
RiverTV is Canada's first virtual broadcasting distribution undertaking, or vBDU. Like conventional BDUs, including VMedia TV and those operated by the major telcos and cablecos, RiverTV aggregates top specialty channels from leading Canadian programming groups including Corus, CBC/SRC, Blue Ant Media, Channel Zero and Wildbrain, as well as a variety of US channels.
RiverTV is targeted both at cord-cutting Canadians and those looking for a more affordable live TV solution without the big expensive packages of the traditional TV providers, and especially focusing on millennials and families with young children.
About RiverTV
River TV, a VMedia Platform, is the first Canadian live TV and on-demand streaming channel provider, or virtual broadcasting distribution undertaking (vBDU), with over 40 top channels including a slate of US streaming channels, featuring thousands of hours of original programming each month. The affordable RiverTV package includes a great lineup of your favourite channels and programming content from Global, CBC/SRC, CBC News Network, CHCH-TV, W Network, Food Network, HGTV, Showcase, Teletoon, Treehouse, HISTORY®, Adult Swim, Slice, YTV, MovieTime, Crime & Investigation, National Geographic, Silver Screen and more, plus exclusive US streaming channels including Bloomberg Quicktakes, Cheddar, Law & Crime, Newsy and REVOLT. RiverTV also features many a la carte channels and add on packages, including Hollywood Suite, Super Channel, Nick+ and lots more. Visit www.rivertv.ca.
About VMedia
VMedia is Canada's leading independent telecom and broadcasting company available coast to coast, offering unlimited Internet, TV, Home Phone and Home Security services. VMedia's mission is to provide the most affordable prices, the best choice and flexibility, dedicated consumer advocacy and ongoing service innovation. Recognized as an innovation leader in the industry, VMedia was the first to launch numerous consumer-friendly service and packaging features, and is a pioneer in the development of live TV streaming solutions and IPTV broadcast technology, offering easy and affordable choice and access to favourite TV entertainment. Visit www.vmedia.ca.
Roku is a registered trademark and Roku TV is a trademark of Roku, Inc. in the U.S. and in other countries.