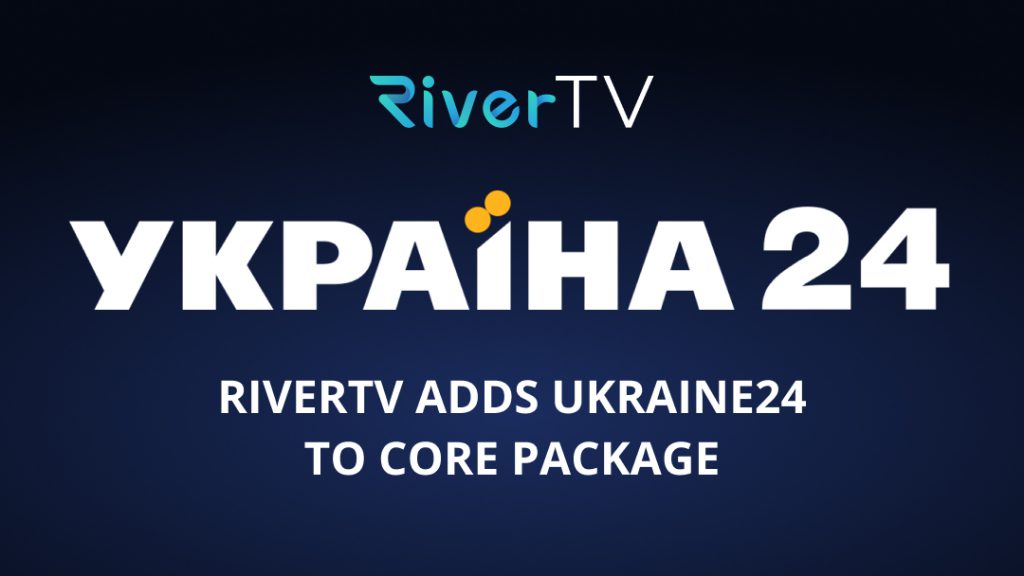 Contact: Susan Hershman / VMedia Inc
(416) 523 6520 , [email protected]
RIVERTV AND VMEDIA ADDS UKRAINE24 TO THEIR BASIC TV PACKAGES AT NO ADDITIONAL CHARGE
TORONTO, ON – February 28, 2022 – RiverTV (www.rivertv.ca), Canada's first live TV and on demand streaming service, and VMedia Inc. (www.vmedia.ca), Canada's leading independent provider of residential telecom and broadcasting services, have added Ukraine 24, the leading 24/7 TV news channel from the Ukraine to the RiverTV core package and to VMedia Basic and Premium TV Packages. This will be at no additional charge to subscribers.
VMedia has also removed RT, the English-language Russian-government controlled news channel, from its line up until further notice.
"VMedia is an outspoken supporter of free expression, and in no way seeks to take on the role of gatekeeper of TV services of any kind," said Alexei Tchernobrivets, President and CEO of VMedia Inc. However, Putin's invasion of the Ukraine is an attack on freedom everywhere, and the suffering it is inflicting on the Ukrainian people must be communicated accurately to the world."
RT, operated by the Russian government, has come under fire as a key outlet for propaganda and misinformation, and is a part of the brutal war being waged against Ukrainian men, women and children.
"We are adding Ukraine 24 to all our discretionary packages on VMedia TV, and to our Basic package on RiverTV, to facilitate the ability of concerned Canadians, especially those of Ukrainian heritage, to have a reliable source of information about their homeland," Mr. Tchernobrivets said.
These changes are in effect until further notice.
About VMedia
VMedia is Canada's leading independent telecom and broadcasting company available coast to coast, offering unlimited Internet, TV, Home Phone and Home Security services. VMedia's mission is to provide the most affordable prices, the best choice and flexibility, dedicated consumer advocacy and ongoing service innovation. Recognized as an innovation leader in the industry, VMedia was the first to launch numerous consumer-friendly service and packaging features, and is a pioneer in the development of live TV streaming solutions and IPTV broadcast technology, offering easy and affordable choice and access to favourite TV entertainment. Visit www.vmedia.ca.
About RiverTV
River TV, a VMedia Platform, is the first Canadian live TV and on-demand streaming channel provider, or virtual broadcasting distribution undertaking (vBDU), with over 40 top channels including a slate of US streaming channels, featuring thousands of hours of original programming each month. The affordable RiverTV package includes a great lineup of your favourite channels and programming content from Global, CBC, CBC News Network, CHCH-TV, W Network, Food Network, HGTV, Showcase, Teletoon, Treehouse, HISTORY®, Adult Swim, Slice, YTV, MovieTime, Crime & Investigation, National Geographic, Silver Screen and more, plus exclusive US streaming channels including Bloomberg Quicktakes, Cheddar, Law & Crime, Newsy and REVOLT. RiverTV also features many a la carte channels and add on packages, including Hollywood Suite, Super Channel, Nick+ and lots more. Visit www.rivertv.ca.
Roku is a registered trademark and Roku TV is a trademark of Roku, Inc. in the U.S. and in other countries.