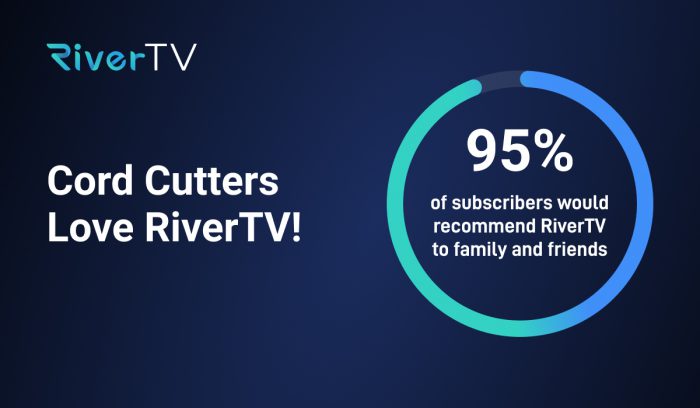 As we all know, customer feedback is important in today's content streaming world – so it is really great to hear that our RiverTV customers are very happy with RiverTV and their overall experience with our new live and on demand TV service.
Here's what you had to say about River TV and our streaming features in a recent Customer Survey:
95% of subscribers said they would recommend RiverTV to friends and family
83% of our subscribers gave RiverTV a 4/5 or 5/5 satisfaction rating
We also learned what our subscribers like most about RiverTV.
Streaming live TV – The number 1 reason. (Hey – what's not to like about streaming live TV & on demand with thousands of hours of new content every week!)
TV Guide – Sleek, easy to use TV guide for scrolling and program selection
Our channel lineup – including Global, Showcase, W, History, Adult Swim, Slice, MovieTime, Rewind, Lifetime, YTV, Teletoon, as well as innovative, new US online channels such as; Cheddar, REVOLT, Journy, Law & Crime and more. Easy access to top new shows

like

Departure, Devils, Why Woman Kill

or binging on best-in-class favorites like;

NCIS, Saturday Night Live, Big Brother, Rick & Morty

and more.
To all those of you who took the time to complete our streaming survey – thank you! We had close to 1400 active customers complete the RiverTV Survey. And thank you for all the positive RiverTV reviews you posted on the Amazon, Apple, Google Play app stores and Roku channel page. We greatly appreciate all of them.
We will continue to work hard on making RiverTV the best value online streaming service for today's connected consumer. Stay tuned for new features and enhancements, including our recently launched RiverTV web browser app (beta) so you can watch on your laptop, pc or mobile and a RiverTV app for Android mobile.
RiverTV – Stream on.